PAUL OSCHER
Alone With The Blues

Tracks 5,6,8,9,10,13,14,16 recorded - Liquid, Toronto - Feb. 11, 12 and 13th, 2001
Sessions recorded and mixed by - Alec Fraser
Tracks 1,3,4,7 recorded - Kingsnake Studios, Sanford, Florida
Track 2 recorded - live to cassette recorder in a rooming house in Brooklyn, N.Y. circa 1999
Track 12 recorded - in N.Y.C. circa 1993
Tracks 11, 17 recorded - at Sorcerer Sound, N.Y.C. circa July 1999
Cover photography - Laureen Smith
Design - Amy Occhipinti
Mastered by - Andy Krehm at Silverbirch Productions, Toronto
Produced by - Andrew Galloway, Sandra B. Tooze and Paul Oscher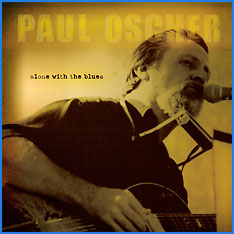 Electro-Fi 3384
Audio Sample
328Kb
We're in Liquid, Toronto a little studio with a big blues sound. Paul Oscher's getting ready to record. The piano is tuned. Paul's got his neck rack for the harmonica plugged into his amp . His guitar, an old Harmony Hollywood arch top signed by numerous blues legends is on its stand and Paul's laying down Marine Band harmonicas, a few chromatics, a huge bass harp and a melodica on a piano bench in front of him. He tells me "I'm gonna try something new, I call it 'alone with the blues.'" Paul starts playing, switching harmonicas, adding the rhythm by tapping his feet. We miked his feet. Sometimes playing the harp into something that looks like a trumpet mute, he switches back and forth from chromatics to smaller harps then to melodica then bass harp , and doesn't miss a beat. Five minutes and twenty three seconds of the first take later, those of us lucky enough to be in the control booth just shook our heads in awe at the musical tour de force we had just witnessed.
The title cut for this cd was done. Paul said "let me try that again, the harp stuck on one of my licks" I said, "that's alright we got it. That's the blues." Paul continued the session singing the blues, playing guitar or piano and accompanying himself with harmonica in a neck rack in a variety of blues styles, and he topped off the session the next night with a solo gig at Toronto's famous Silver Dollar Room. Michelle Gebhart, the barmaid at the Silver Dollar said, "When I saw we had booked a solo performer, I wondered how he would go over with our band crowd, but when I saw all the best blues musicians in Toronto in the audience, I knew we had something special. Paul sounded like a whole band and played all those instruments. People are still talking about it."
Paul Oscher has been impressing people with his blues virtuosity for a long time. He got his start in Muddy Waters band as Muddy's harp player from 1967 through 1971, following in the footsteps of Little Walter, Junior Wells and James Cotton. Paul traveled with Muddy when Muddy was still playing the so called "Chitlin Circuit", playing the black theaters and juke joints to audiences that knew the blues, lived the blues, and had the blues. Paul also lived in Muddy's house on Chicago's Southside and shared the basement with the great Otis Spann. He learned the piano from Otis and learned the slide guitar style from Muddy. As Paul says, "Yeah every night we played I stood next to Muddy on the stage. I was blowing the harp but I was steady watching Muddy with that slide. Man, I was blessed just to be around those cats, and the other guys in the band: Sammy Lawhorn, Pee Wee Madison, Luther 'Georgia Boy' Snake Johnson, S.P. Leary, Sonny Wimberly, Calvin Jones, Willie Smith and Pinetop. I was living out my dreams. Those guys were my heros". Paul Oscher has always been at home with the blues and nothing else. Besides Muddy, Paul has perfomed or recorded with a veritable who's who of the blues world including John Lee Hooker, Earl Hooker, Jimmy Rogers, T-bone Walker, Big Mama Thornton, Johnny Copeland, Louisiana Red, Victoria Spivey, Hubert Sumlin, Levon Helm, Eric Clapton, Keith Richards, the list goes on.
This cd is Paul's fourth nationally released recording under his own name . In addition to the tracks recorded at the Toronto session, we have also incorporated into this cd, additional recordings featuring Paul alone and in ensemble settings. This cd covers a wide range of musical expression and features Paul as a singer/songwriter and multi instrumentalist over a diverse spectrum of blues styles. You'll hear the foot stomping, haunted, other worldliness of "Standing at the Crossroads", the jazz-tinged swing of "Walkin", the deep lament of "Anna Lee" plus the heart felt spirituality of "Ship of Zion" and "Giving Thanks". Paul's version of "Louis Collins" on which he plays the accordion sounds like it predates Mississippi John Hurt's original. To sum up, this is the work of a man who has been true to the spirit of the blues all his life. We at Electro-Fi are proud to present "Alone With The Blues" to you.