SNOOKY PRYOR
And His Mississippi Wrecking Crew

Snooky Pryor - Vocals and harmonica
Pinetop Perkins - Piano on all tracks and vocal on track 6
Mel Brown - Guitar on all tracks
Bob Stroeger - Bass
Willie "Big Eyes" Smith - Drums
With special guest
Jeff Healey - Guitar on tracks 2, 3 & 5


Produced by - Andrew Galloway
Recorded October 23 & 24, 2001 at Liquid, Toronto
Recorded by Alec Fraser
Mixed by Alec Fraser & Andrew Galloway
Mastered by Andy Krehm at Silverbirch Productions
Photography & webmaster - Gary Collver
Design by Amy Occhipinti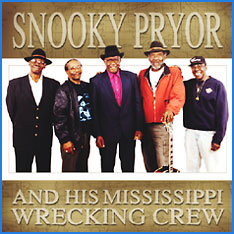 Electro-Fi 3373
Audio Sample
416Kb
The impetus behind this album is a musical celebration of the 80th birthday of one of the founding fathers of modern blues harmonica. Snooky Pryor has played a center stage role in the creation and development of blues music, his rich and varied career has walked hand in hand with the progression of the blues tradition, since that day in 1929 when he witnessed Rice Miller performing outside of a general store in Vance, Mississippi . Career highlights include his pioneering work in amplifying the harmonica on Maxwell Street during the mid 40's. Recording "Telephone Blues" b/w "Snooky and Moody's Boogie" regarded by many as the first Postwar Chicago blues record. Teaming up with Floyd and Moody Jones during the golden age of Chicago Blues in the late 40's and early 50's. His recording of "Someone to Love Me " and "Judgement Day" for the Vee-Jay label in 1956. Snooky's rediscovery in 1970 and subsequent tours of Europe with Homesick James. Touring Canada and the U.S. in the early 70's with Willie Dixon. Recording with Johnny Shines, and his frequent incendiary appearances at Atones in Austin, during the 1980's.

Not one for dwelling on past musical triumphs, Snooky Pryor is a man equally proud of his ability as a master carpenter, or his knack of landing catfish with a bow and arrow, as he is of his prowess on the harmonica. So it's only natural he saw this album for what it should be, an opportunity to get together with some close friends and lay down a sublime aggregation of hot and greasy blues tracks.

From my point of view, it was near paradise sitting quietly in that studio with Snooky cupping his harp in his hands, Mel Brown cradling his big Gibson archtop, Willie "Big Eyes" Smith sitting proud behind his kit, Bob Stroger swinging his bass on his hip, and Pinetop Perkins dancing his 88 year old fingers across the ivories. The wit, wisdom and collective mojo of those gentlemen transformed the blues into a living , breathing thing of immeasurable beauty.
Andrew Galloway