Many thanks to all for your good wishes and support during our 20th Anniversary year. It's inspired us to take a shot at another 20 years ….one year at a time.
Here's our final release of 2017: Hardcore Harp a Celebration of 20 Years of Blues Harmonica Masters on Electro-Fi Records.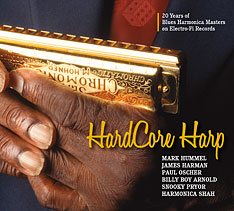 "Amazing Stuff….this is an album of brilliant Blues Harmonica playing".
- Blues Matters.
Featuring some of the very best of today's Blues Harmonica Artists: Mark Hummel, James Harman, Paul Oscher, Harmonica Shah and Billy Boy Arnold. Along with Harp Masters of the 20th Century: Snooky Pryor, George "Harmonica" Smith, Sam Myers, Little Mack Simmons, Willie "Big Eyes" Smith and more.
The 19 track collection recorded between 1996 and 2016 features 4 members of the Muddy Waters Blues Band. Special guests include Grammy winning pianoman Pinetop Perkins, BMA winning bassist Bob Stroger and Guitar Legends Mel Brown, Rusty Zinn, Jack de Keyzer and Billy Flynn. This is Blues Harmonica at it's finest.
Here's a link to award winning filmmaker Mako Funasaka's video of Snooky Pryor & Mel Brown performing Headed South from the CD.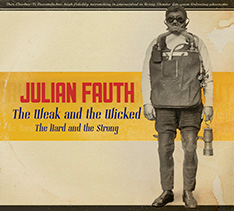 JULIAN FAUTH
The Weak and the Wicked (The Hard and the Strong)
"Le Pied" 5 out of 5 stars - Soul Bag
"Julian Fauth practically redefines Eclectic" - MOJO
3 1/2 out of 4 stars - Downbeat
"Unique and Innovative…by no means is this your average Blues album…
which is the best thing about it. And maybe we just might need a lot more of that. - Living Blues
Here's a link to Mako Funasaka's video of Julian performing "Casey Jones" from the new CD.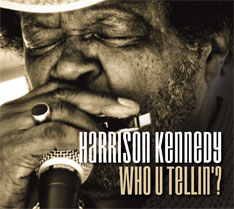 HARRISON KENNEDY
With Special Guests: Jack de Keyzer, Jimmy Bowskill, Julian Fauth and Alec Fraser
"Harrison Kennedy is a Modern Blues Master of True Substance" - Living Blues.
Nominated for Best Blues Recording of the Year - Maple Blues Awards.

"There may not be a better Blues songwriter working today" - Maple Blues
The release of this album was a wonderful way to celebrate the 75th birthday of Juno Award winner Harrison Kennedy and the 20th Anniversary of Electro-Fi. Harry had a mighty busy year, performing constantly, including 3 tours of France, as well as a show stopping performance at the Canmore Folk Festival in Alberta. "Who U Tellin' hit # 1 on the Roots Music Report: Canada Top 50 Chart back in May, and 8 months later is still on the chart. Watch for a new release from Harrison on Electro-Fi in 2018.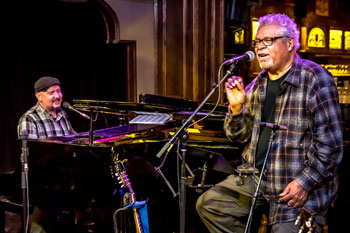 Photo by Nick Harding
Juno Award winning Electro-Fi Blues Brothers Harrison Kennedy and Julian Fauth tear it up together. It's a good year for the Blues, when both Julian and Harrison have new albums out.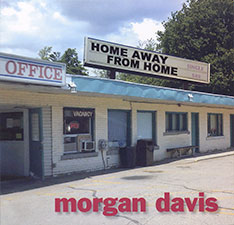 MORGAN DAVIS
Another Juno Award winning Bluesman Morgan Davis is back with a brand new disc featuring a dozen originals done in Morgan's classic style with special guests:
Colin Linden and Samantha Martin & Delta Sugar.

"The patented Morgan Davis groove has always been one of my favorites"
- John Valenteyn - CIUT 89.5 FM

Catch Morgan on Tour later in 2018 www.morgandavis.com

COMING MARCH 16th, 2018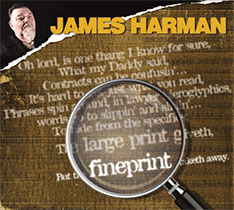 JAMES HARMAN
The eagerly awaited new release from Blues Legend James Harman, whose 2015 Electro-Fi debut release " Bonetime " garnered 5 Blues Music Award Nominations. Produced for Electro-Fi Records by James Harman and Nathan James.

HIDDEN TREASURE from our back Catalogue: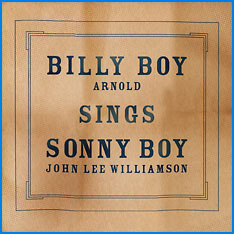 BILLY BOY ARNOLD
Exactly 10 years ago, November 1 & 2, 2007 we brought Chicago Blues legend
Billy Boy Arnold into the studio to record an album he'd long dreamed of doing.
A tribute to his mentor John Lee "Sonny Boy" Williamson, we assembled an all-star Band comprised of Mel Brown, guitar and piano, Billy Flynn, guitar and mandolin, Willie "Big Eyes" Smith, drums and Bob Stroger, bass. Produced by Alec Fraser and Andrew Galloway, the sessions yielded 17 tracks featuring 15 Sonny Boy classics and 2 Billy Boy Arnold originals. Billy Boy's vocal and harmonica work on this album are exceptional Chicago Blues. If you missed it on the first go 'round check it now out here

MARK HUMMEL
WEST COAST Blues Fans, Don't Miss the January 2018 edition of MARK HUMMEL'S Hamonica Blowout Tour featuring Mark along with Billy Boy Arnold, R.J. Mischo, John Primer, Deitra Farr, Oscar Wilson and Billy Flynn. More info and full Tour schedule available at www.markhummel.com

NEW RELEASES COMING FROM ELECTRO-FI IN 2018 & 2019:
James Harman, Shakura S'Aida, Mark Hummel, Harrison Kennedy, Harmonica Shah with Jack de Keyzer and Julian Fauth, Fruteland Jackson and Blackburn.
On behalf of the Electro-Fi Family of Artists we wish you and your family, a Wonderful Holiday Season and a happy and healthy 2018 filled with great Blues music.

Andrew Galloway Gary Collver
Our music is available on Amazon.com, iTunes, at finer record stores worldwide and direct from this site. Like us on Facebook.