Wishing you all the very best of the Holiday Season and proudly announcing the release of our new MARK HUMMEL CD WAYBACK MACHINE on January 17th, 2020.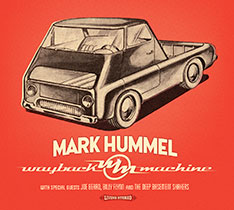 Grammy winning West Coast Harp Ace MARK HUMMEL released his 9th CD on the Electro-Fi label back in January and the WAYBACK MACHINE made it all the way to # 1 on the U.S. Roots Music Report Blues Chart in it's first week of release. The CD also had a long healthy ride near the top of the Living Blues Radio Charts as well. WAYBACK MACHINE has Mark moving forward, by looking backward, and he's picked a sweet spot in Blues history to explore. The glorious Bluebird Records sound of the 1930's and 40's. Mark is joined by first call Chicago guitarist BILLY FLYNN, as well as the DEEP BASEMENT SHAKERS, and Mississippi Bluesmaster JOE BEARD. Recorded by Kid Andersen at the famed Greaseland Studios. While the pandemic has kept road warrior Mark at home, he's keeping busy with a wide variety of virtual performances. Check Mark out on Facebook or at www.markhummel.com
"Mark Hummel is one of the very top notch guys on the Blues Harmonica Scene today. He's a great traditional player ". - BILLY BOY ARNOLD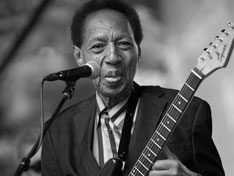 Billy Boy Arnold at the Chicago Blues Festival
Photo: Bruce Greenaway
Speaking of Electro-Fi artist BILLY BOY ARNOLD we were delighted to wish this Living Legend of the Chicago Blues a Very Happy 85th Birthday back on Sept.16th. Nowhere near enough room here to even summarize Billy Boy's many contributions to Blues music, but we are extremely proud of his 4 stellar releases on Electro-Fi. Consolidated Mojo (produced by Mark Hummel) Billy Boy Sings Sonny Boy (produced by Alec Fraser & Andrew Galloway) Billy Boy Sings Big Bill Broonzy (produced by Eric Noden) The Walter Davis Project (produced by Christian Rannenberg) Wishing Billy Boy many more Happy Birthdays!
"In this day and age it is rare to have Traditional Blues rise to such heights, as Billy Boy Arnold does on this tribute to his mentor Big Bill Broonzy". - Chicago Blues Guide. WDCB 90.9 FM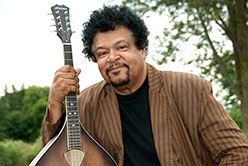 Photo: Gary Collver
HARRISON KENNEDY
JUNO Award winner HARRISON KENNEDY was in Paris ready to start a tour of France when the pandemic first hit back in March. Left stranded in a tiny apartment during lockdown, with his flight back canceled. Harrison marshaled all the support he could and eventually was able to grab a last minute seat on a flight home to Canada. Harrison's keeping busy writing and rehearsing songs for a possible new release in 2021.
Even more good news is that Harrison has just been nominated for Maple Blues Awards in the categories of Acoustic Artist of the Year and Male Vocalist of the Year.
"Harrison Kennedy is a Modern Blues Master" - Living Blues Magazine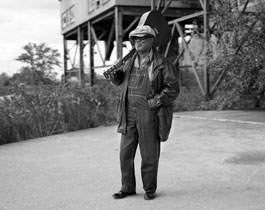 Photo: Bruce Greenaway
FRUTELAND JACKSON
Check out GOOD AS YOUR LAST DOLLAR the most recent CD from Keeping the Blues Alive Award Winner FRUTELAND JACKSON. The disc was nominated as Best Acoustic Album and Fruteland was nominated as Best Acoustic Artist at last years Blues Music Awards produced by the Blues Foundation of Memphis, TN. Follow Fruteland on Facebook or at www.fruteland.com
"Fruteland Jackson is one of the Premier Acoustic Blues Artists of Today" - DOWNBEAT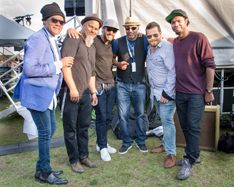 Photo: Nick Harding

BLACKBURN
Looking Forward to 2021. Electro-Fi Artists BLACKBURN will be releasing their new album, the eagerly awaited follow up to 2016's JUNO Award nominated BROTHERS IN THIS WORLD album. Duane, Brooke and Cory may be perfectionists when it comes to recording their unique and original blend of Soul & Blues, but their pain is your gain. Having had the pleasure of hearing the tracks through their evolution, I can tell you that the new album is their best work yet, and with an outfit as deeply talented as the Blackburn Brothers, that's really saying something. Watch for details of the as yet untitled album in the Spring 2021 edition of this newsletter. Cory Blackburn has been nominated for a Maple Blues Award in the category of Drummer of the Year. Duane Blackburn has been nominated in the category of Piano/Keyboard player of the year. Great times ahead for the Blackburn Brothers.
"I had a Boss Time last night in Memphis. I saw some really cool bands. There was a band from Canada called BLACKBURN; 3 brothers and a bass player, Very Funky Hammond Organ! Very charged and at heart!" - David Fricke, Senior Editor, ROLLING STONE Magazine

Also on the release schedule for 2021 is a special project honoring Blues Legend SNOOKY PRYOR on what would have been the 100th Anniversary of his birth, A limited edition 2 CD set entitled I Started The Big Noise Around Chicago Best of the Electro-Fi Years, will be released in the Fall of 2021. The set will include the cream of his recordings for the Electro-Fi label, as well as Live material and previously unreleased bonus tracks. Supporting Snooky on the material is an All-Star line up of Blues Masters including MEL BROWN, PINETOP PERKINS, WILLIE "BIG EYES" SMITH, BOB STROGER, MICHAEL FONFARA and JEFF HEALY. The collection will be curated by it's original producers Alec Fraser & Andrew Galloway.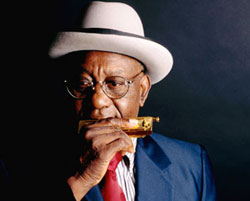 Photo: Gary Collver
""If you make up your mind to survive, you know you can make it" Snooky Pryor said, and on his last recordings Snooky Pryor and his Mississippi Wrecking Crew, and Mojo Ramble, both made in 2001 for the Electro-Fi label, his gruff, powerful singing and pungent Harmonica playing seemed almost untouched by time". - Tony Russell, The Guardian

Remembering Good Friends:
Sadly this year we lost 3 gentlemen who were all great friends and supporters of Blues Music and the Electro-Fi label.
TOM JARDIN who passed away September 17th, at age 66, was a talented recording engineer. Tom recorded Fathead's JUNO Award winning album "Building Full Of Blues" as well as the Live albums "Piano-rama" and a true Blues classic "Mojo Ramble - Snooky Pryor Live in Concert with Mel Brown and the Homewreckers" Tom also was also behind the board on two albums by Willie "Big Eyes" Smith.
JOHN ALLEN who passed away suddenly earlier this year was a real joy to know. He put his considerable talents to excellent use managing and booking Electro-Fi Artist Julian Fauth for several years, and played a large role in promoting the "Ramblin' Son" album which won Julian the Juno Award in 2009.
JOHN VALENTEYN co-founder of the Toronto Blues Society, and a Blues historian, record collector and disc jockey par excellence, passed away at 73 on October 4th from a rare blood disorder. A true cornerstone of the Canadian Blues world, John provide much airplay and encouragement to Electro-Fi Records and our artists from day one. We always enjoyed spending time with John on our yearly pilgrimages to the Chicago Blues Festival over the last 25 years.
We'll miss all three of these gentlemen greatly.

Our music is available on Amazon.com, iTunes, at finer record stores worldwide and direct from this site. Like us on Facebook.